Blowing apparatus
Blowing is provided by a B.O.B. type X10B plant housed in the organ chamber whose 2 ½ h.p. motor operates on a three-phase electricity supply.
The organ casework has been cleaned, repaired and repolished with adaptations made to allow for the repositioned console and the front pipes have been repainted silver with gold mouths.
One of the aims of the restoration has been to re-create the tonal character of the 1890 organ. The tonal alterations have been designed not only to give a more complete chorus structure to each department of the organ, but also to respectfully enhance the original Forster and Andrews' sound. Every credit must be given to Geoffrey Coffin and his team at Principal Pipe Organs for rebuilding the organ with workmanship of the highest order. Because of the skill and craftsmanship that has gone into the restoration, there is now no reason why the organ should not serve a further century before the process becomes necessary again.
The organ was re-dedicated by the Archbishop of York, Dr. David Hope on 26th July 2001 and Gordon Stewart, the Kirklees Borough Organist of Huddersfield Town Hall, gave the inaugural recital on 28th July.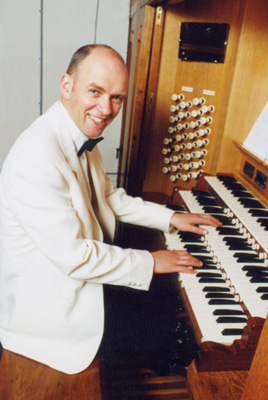 ORGANISTS OF ALL SAINTS' PARISH CHURCH , HESSLE
Records of 19th century organists are very incomplete. That there was an organist is evidenced by the fact that an annual salary of
£4 0s 0d was paid in 1827. By 1828 this amount had risen to £5 0s 0d, an amount which was to remain more or less until the closing years of the century when the salary was £15 0s 0d.
Richard Hall was the first organist known by name. He was certainly in office in September 1828 and it is possible that he was appointed in 1824 when Ryley installed an organ in the church. Hall appears to have been succeeded in 1831 by a Miss Ellis who may well have remained as organist until the appointment of Joshua D Horwood in 1840.
Horwood, a pupil of Dr. H.J. Gauntlett (known, amongst other compositions, for his tune for 'Once in Royal David's city') and friend of S.S. Wesley, held the post until 1854 when he was appointed to the Mariners' Church in Hull. After two years there, he moved to St. Mary's, Cottingham and then returned to Hessle for a period before moving to his last appointment at All Saints' Church, North Ferriby.
Around 1880, a Mr. Woodford was organist and for a short time from 1881, the post was held by Robert R Coverdale.
Out of the first seventy years when there was an organ in the church, organists can only be named for around half of the time. However, from 1895, records are complete and read with further information where appropriate, as follows:
1895 H.L. Adams, Mus. Bac. (Dunelm), F.R.C.O.
1896 H.M. Lawrence, A.R.C.O.
1897 Ernest G Welsh A.R.C.O.
1900 G.T. Pattman F.R.C.O.
George Pattman moved to Bridlington where he was organist at Bridlington Priory from 1901 to 1904, subsequently holding appointments at St. Mary's Cathedral, Glasgow and later in London. By 1916 he decided that the entertainment business would be more lucrative and so ordered a large travelling organ from Harrison & Harrison of Durham with which he toured throughout the country.
1901 Philip Chignell, F.R.C.O.
There were over one hundred applicants for the post when Philip Chignell was appointed organist. He had been a chorister at St. George's Chapel, Windsor under Sir Walter Parratt. An assistant organist at Norwich Cathedral, he came to Hessle from St. Margaret's, Lowestoft.
1944 Harold Dibnah.
A pupil of the well-known Hull organist Dr.G.H. Smith. From 1911 until the 1980's, Harold Dibnah held appointments at fifteen churches in the Hull area.
1950 Raymond Taylor, F.V.C.M, F.F.C.M.
Another pupil of Dr. G.H. Smith. Prior to his thirty-two years at Hessle, Raymond Taylor had held appointments from 1925 at churches in Holderness, including St. Augustine's, Hedon, and also in Hull.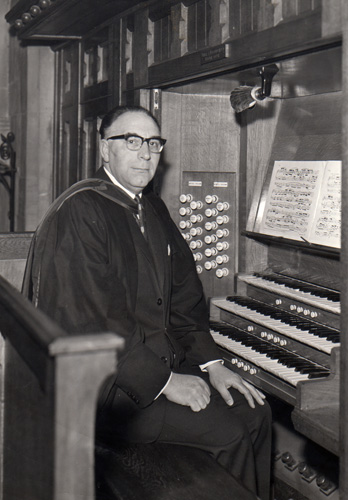 1982 Andrew Leach, A.R.M.C.M, A.F.C.M, F.R.S.A.
Andrew Leach studied at the Royal Manchester College of Music. He was formerly assistant organist at Beverley Minster and Master of the Music at Howden Minster.